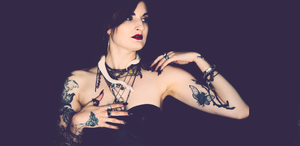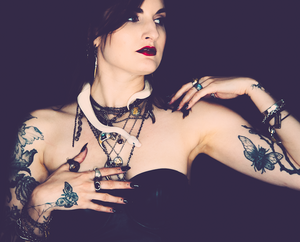 BROOKLYN-BASED JEWELRY LINE INSPIRED BY THE OCCULT AND THE ESOTERIC
Sustainable, significant personal talismans Machinations creates jewelry that inspires and empowers the individual. Every piece is imbued with deep meaning—from the symbols used to the gemstones chosen.

Art is at the heart of Machinations. Especially Tesia Alexandra's love for art history across the Middle East and Europe. Her time spent exploring the spirituality, symbols, and stones of those areas influence every piece she creates. 
Bold and unique, Machinations creates pieces you will cherish forever. 
★★★★★

Rustic perfection


Absolutely love this necklace, I love the look of something that's handmade and rustic. Can be worn with anything and knowing it was handmade makes it better. Will be back for more!



William Perry
★★★★★

Total perfection

This is so beautifully made and has real heft to it. A ring that will last for a lifetime!

Amina Akhtar
★★★★★

Unlike Anything

Perhaps nothing will make you feel more like a powerful witch than wearing this talon talisman – it feels like armor. It has a gorgeous weight to it, perfect for those who like to absently play with their jewelry all day. It's a tactile pleasure. The tourmaline is the perfect shade of blue, like the Aegean Sea. I'm only sorry it took me this long to buy it.


AuthRuth Awad
★★★★★

GORGEOUS

Even more beautiful than I'd hoped.



Dane Green
★★★★★

Beautiful Craftmanship

I love the quality - weight of the piece. Totally unique & a conversation piece...




Samuel Sands